Meet Audrey, Dorothy, and Emily. They were my students yesterday in my last free Traveling at the Speed of Bike class for women in metro Atlanta.
Audrey was a member of my team, Trusting the Journey, for Biketober, although we hadn't met in person. She brought Dorothy, who is an au pair from South Africa who will be riding Audrey's two young children to and from school and activities on a utility bicycle. Emily, a Returned Peace Corps Volunteer from Cameroon, is trying to commute safely via bicycle to the Centers for Disease Control. My hope is that our hour-and-a-half time together helps them all achieve their goals.
Below is an overview of the proprietary class I created, by the way, based on the nine-hour Smart Cycling curriculum from the League of American Bicyclists that I am certified to teach.
Note: I leave for the Peace Corps (Uganda) in seven months (if I get through medical and legal clearance unscathed) as an Agribusiness Advisor. I have much to learn still before then about bikes, agriculture, small businesses, and women close to home and around the world (while also packing up my life) so I won't be offering these classes anymore. With that said, I couldn't have asked for a better group for yesterday, and I am grateful for all of the other amazing women I've met while doing these classes the past few years (some of whom are pictured below). I hope you see some of them out there Traveling at the Speed of Bike for years to come.
Please be sure to check out my Bonus Resources, if anything there can be helpful to you.
Description
Yes, you CAN "fall back" in time and feel like a kid again, while moving forward in our changing world. My class (on the day we actually "fall back" in time!) is specifically for women who may have one of these goals:
Bike with your friends, significant other, or kids;
Bike-commute to work (even if it's just the final mile) or around your college campus;
Run errands the fun way;
Reduce stress, improve health, and feel better;
Save money;
Live lighter on the land;
Use bikeshare when you travel or around the City of Atlanta;
If you know how to pedal a bike and have access to a bike in good working condition with at least three gears, this timely class may be just what you need to get back in the saddle and add more joy to your life.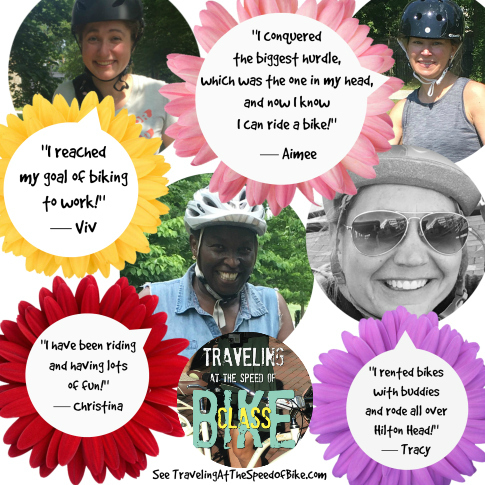 I am certified to teach the League of American Bicyclists' Smart Cycling curriculum, from which I created this proprietary class for you. In this FREE class (my last one of 2019), you'll enjoy a supportive environment where you can:
Brush up on bike handling skills;
Learn avoidance tricks for common hazards;
Practice switching gears;
Learn trail etiquette;
Get an intro to road rules and tips;
And find out how to choose a route where you feel comfortable so you can fit bike riding back into your life.
We go at a pace that meets your comfort level — and since there is a maximum of six students in this class, your personal attention is assured. This entire class is separated from motor vehicle traffic; however, you'll learn skills you can apply to a wide variety of riding conditions.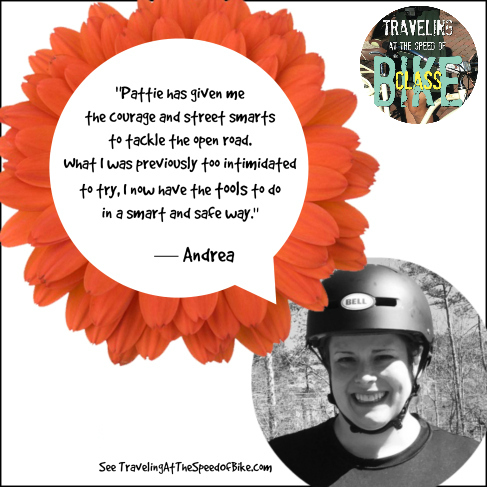 Bring your own bike in good working condition (with at least 3 gears), a helmet (required), and a bottle of water. Regular, everyday clothes are all that's needed. Closed-toe shoes are best (no flip flops). There is access to a restroom and water fountain. You will need to sign the League of American Bicyclists standard release form right before we start the class.WARNING: Bike riding may change your life in surprising ways. It continues to change mine.
I'll meet you at the Relay Bikeshare station in Piedmont Park by Park Tavern! (Registration required.)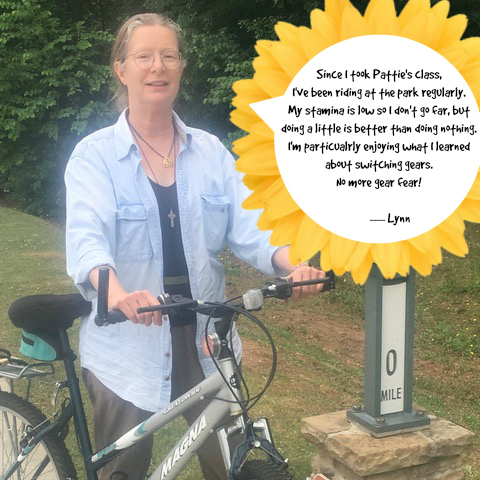 For anyone with an old bike just sitting in the attic (or garage, or shed, or basement) year after year, you may enjoy listening to this. I also invite you to visit my blog, Traveling at the Speed of Bike, with links to my book and free Bonus Resources. As always, a percentage of profits from the sale of my book are used to help more women and girls ride bikes, such as through free and reduced-priced classes like this.